JEUX D'HEXAGONES of LITHOS MOSAICO ITALIA is a modular coating for walls and natural marble floors with engravings to Acquaforte that is freely inspired to "Panot Gaudi" of the famous Catalan architect. The hexagonal decor evokes the thought of Gaudi, based meticulous observation of forms and structures found in nature: "Nature has always been my teacher." The profile reminiscent of a six-sided honeycomb, the shells of a turtle or a crocodile skin, while the engravings, which create plays of light and shadow on the surface of the marble, are snails, algae and aquatic flowers, which lead a sinuous movement to mind.
Jeux d'hexagones 144 MIX 
BP / CL / GF
Bianco Perlino, Calacatta, Grigio Foussana
Module cm 14,4 x 16,6 x 1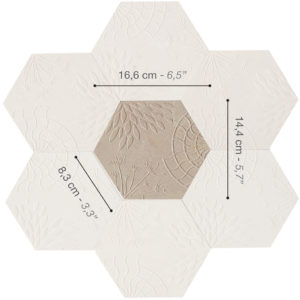 JEUX D' HEXAGONES is proposed in the format 14,4 x 16,6 cm and in shades of marble Bianco Perlino, Calacatta, Grigio Foussana, Travertino Noce, Travertino Chiaro, New Black. The decoration can be composed of a mixture of marbles to create a dynamic coating or monochrome elegant and tonal environments. On request it is possible to realize the decor of all the marbles of the Acquaforte Collection and embellish with the application of gold leaf, Silver and Copper and colors of Caramel line.